9:15am: Opening Keynote by James Strittholt


James Strittholt delivers the keynote at Data2.0 Summit on Climate Change through GEO data. James provided an amazing live demo of DataBasin.org in which he visualized the effects of climate change via interactive and configurable maps in realtime with high quality data.
9:50am: Heard a great quote
"90% of the world's data has been added in the last two years"
10am: PANEL: From Climate Data To Technology Solutions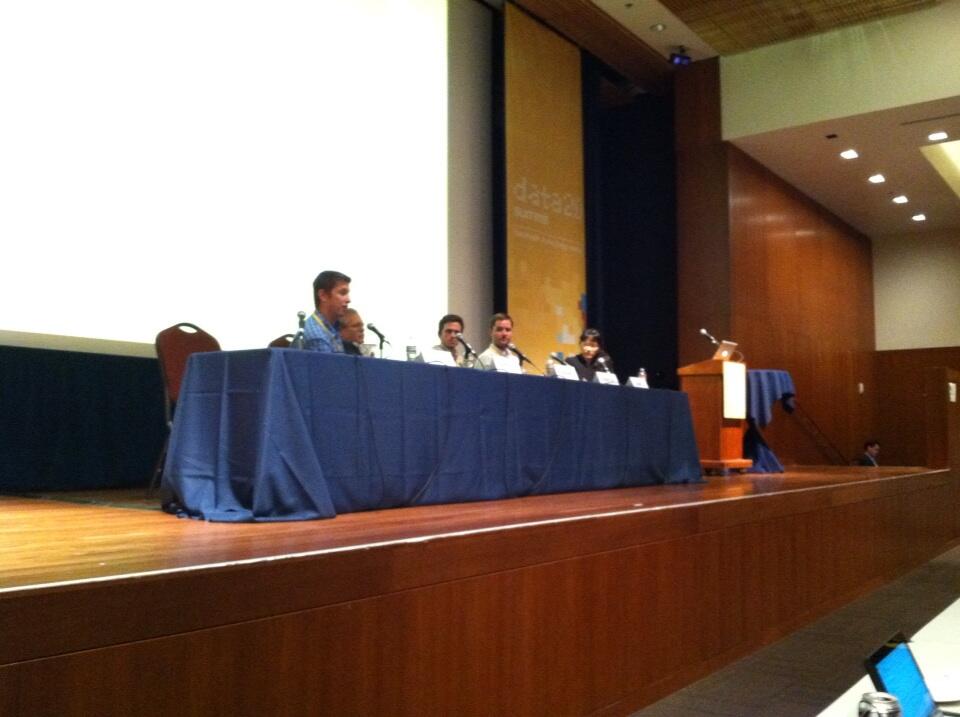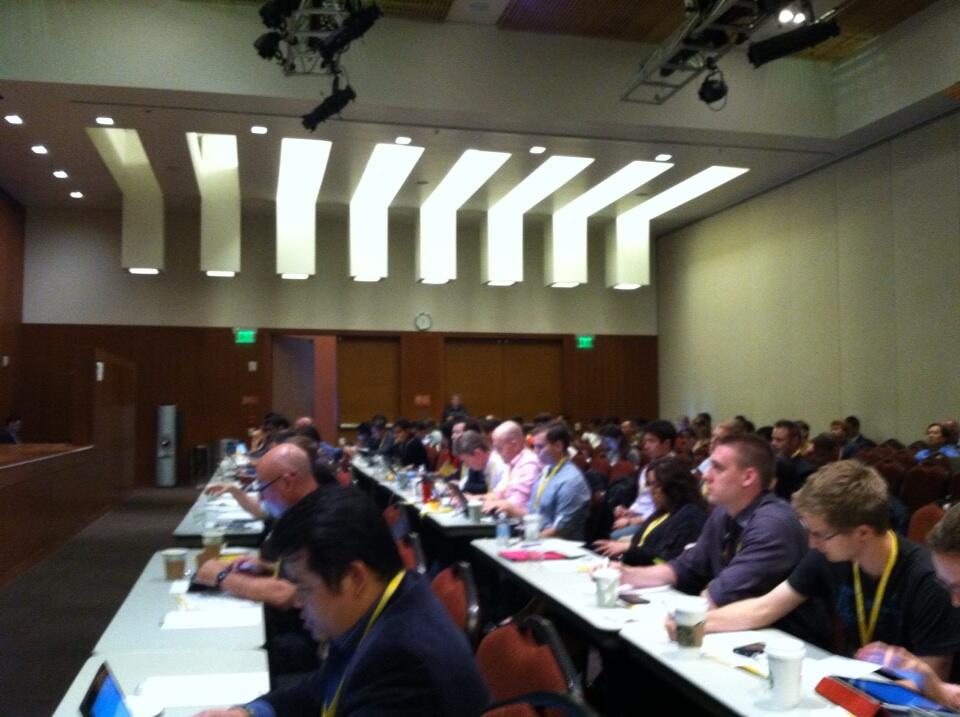 Great discussion by the panel and was very impressed by Daniel Goldfarb, Partner, Director of Design Research, Greenstart who provided great insights in the current data inustry. Below are a few quotes by Daniel:
"The amount of 'dashboard' startups we see is staggering, but simply having a lot of data is not a business model. There's a need for actionable end points for data driven decision making."
"Gamification is the worst word in our industry. It doesn't do anything in most cases."
"Did you know that some of the small utility companies contract outside firms to retrieve email address of their own customers?"
A great question posed by Daniel Goldfarb: "Which car type do you think will be more prevalent in the next five years, EV or Self Driving cars?"
10:50am: PANEL: Data Science and Algorithms-as-a-Service
With a QA format, I've found it easier to jot down the best answers heard during the panel. Data is heavy but algorithms are light. Best strategy to address this difference is to place the algorithm where the data lives. A new strategy is to "burn" the model (IF THEN statements) into the chips themselves. Do you think data as service replaces data scientists? Absolutely not. How to use data successfully and what questions to ask become very important. There are many companies and organizations out there who don't know they have data problems.
Algorithmia: Interesting startup that provides a marketplace for connecting algorithm developers with companies needing solutions.
12pm: Crowdsourcing the Oct Dataweek conference
During lunch the lead organizers of Data2.0 asked all of us to suggest topics we'd like to be covered at the next Data2.0 conference. Of the ideas suggested, then voted on by everyone, Data Predictability was at the top of the list.
12:30pm: Disqus demo of Gravity


12:40pm: Fibit demo'd their latest product, app and API
Fitbit API can be reviewed here
3:20pm: PANEL: Democratizing Data: A business, technology, and society problem
How do we democratize the power of data? On the question of what are the inhibiters to democratizing data, Bruno Aziza from SiSense provided fantastic insights. Bruno outlined a few top inhibiters:
Price: It's currently too high a price to gain access to the data
There's an imbalance with the cost of storage versus crunching the data. It currently costs $1M to crunch 1TB of data versus the very cheap costs to store it.
Although complex, we shouldn't take an elitist closed approach to analyzing data. We should enable the consumer to analyze on their own without the need for experts.
Diego Oppenheimer from Microsoft touched upon the need for education to the consumer. With the increase of easy to use tools being created, how do we reduce the risk of incorrect conclusions made by the user.
On the question of how can we make users more data savvy, Diego pointed out that the issue starts with the fact that data is not clean and thus un-appealing to users to even get started. Diego mentioned that Microsoft has taken a visual and explorer approach with their Data Explorer product offering.
4:10pm Top 5 Startup Pitch Event
Out of 20 startup applicants across the country, karmadata was chosen along with 4 other startups to present during the Startup Pitch event. The other startups include Algorithms.io, MarkedUp, Vertascale and Virtue. You can read about them here.
4:50pm PANEL: Big Friendly Data: Making Big Data Accessible to Non-wizards
How much of their own data is the average organization using? Only 15%. Organizations today can improve their use of data by simply taking a closer look at their own data.
What is the holy grail? It's being able to take any business problem, use the data you already have and work with your current resources/team to reduce the amount of time to market (within 30days).
5:20pm: Top Startup Announced
Algorithmia.io was selected as the top startup.